A Potato Chip Rack Gondola consists of three major components, a double sided island gondola section, or a single sided wall gondola section, with a standard shelf that can be mounted on the gondola in a down slope configuration, and a wire front fence.
Gondola Sections consist of either a double sided island section or a single sided wall section that is usually available in either a three foot wide section or a four foot section. The double sided gondola island sections are used as free standing displays usually placed in the middle of the store. The single sided wall section is always placed up against a wall for proper support. It is not recommended to place a single sided wall section in the middle of a store merchandising floor as it will not be supported at all and most likely will fall.
Available in three foot wide and four foot wide and available in depths of usually eight inches deep to thirty deep. Most gondola shelf manufactures manufacture shelves so they can bee configured on a gondola shelving system in a flat position, a fifteen degree down slope and some heavy duty configurations even a thirty degree down slope configuration making your potato chips more visible and accessible to your customers.
---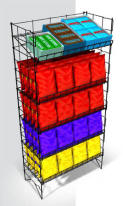 Freestanding, includes 5 adjustable shelves, 24.1" wide 14" deep x 61" tall, powder coat finish.
---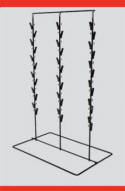 Available in a 2 column and a 3 column configuration. Powder coat finish, color black.
---

The Wire Potato Chip Rack Shelf provides an economical way to display a variety of snack products. When combined with the Wire Utility Basket, ordered separately, allows cross merchandising with dips and salsa.
The Wire Potato Chip Shelf has a load capacity of 30 lbs.