Sandwich Prep Tables constructed of all stainless steel exterior and interior, include a 6" swivel locking caster for easy movement and cleaning, recessed door handles, self closing door to minimize the risk of exposure to spoilage, foam insulated roll back door constructed of stainless steel, completely self contained refrigeration system.
Temp range 32 to 40 degrees.
Optional Drawers Available
Refrigerator Control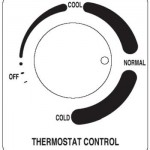 ---
with a 27 1/4" Wide X 9 1/2" Prep Table
EAMT28
Includes 1 shelf.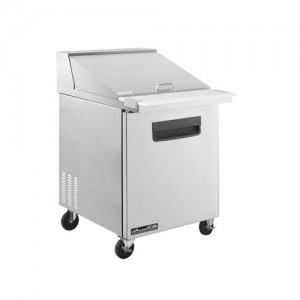 Size
Capacity 7 Cubic Feet
Front View 44" Tall X 27 1/2" Wide
Side View 37 1/4" Deep including front handle X 44" Tall
Top View 27 1/2" Wide X 37 1/4" Deep including handle
---
with a 36 1/2" Wide X 9 1/2" Prep Table
EAMT36
Size
Capacity 9.2 Cubic Feet
Front View 44" Tall X 36 1/2" Wide
Side View 37 1/4" Deep including front handle X 44" Tall
Top View 36 1/2" Wide X 37 1/4" Deep including handle
---
with a 48 1/2" Wide X 9 1/2" Prep Table
EAMT48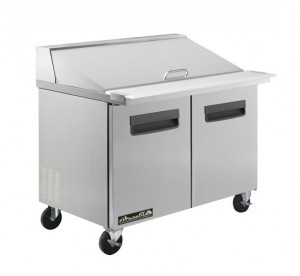 Size
Capacity 13 Cubic Feet
Front View 44" Tall X 48 1/2" Wide
Side View 37 1/4" Deep including front handle X 44" Tall
Top View 48 1/2" Wide X 37 1/4" Deep including handle
---
with a 60 1/2" Wide X 9 1/2" Prep Table
EAMT60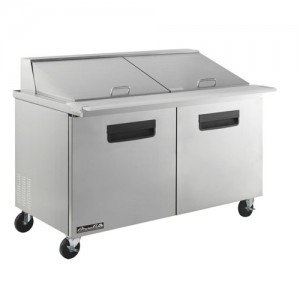 Size
Capacity 16.5 Cubic Feet
Front View 44" Tall X 60 1/2" Wide
Side View 37 1/4" Deep including front handle X 44" Tall
Top View 60 1/2" Wide X 37 1/4" Deep including handle
---
with a 60 1/2" Wide X 9 1/2" Prep Table
EAMT72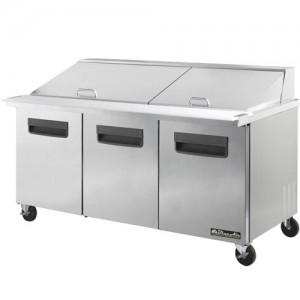 Size
Capacity 20 Cubic Feet
Front View 44" Tall X 72 1/2" Wide
Side View 37 1/4" Deep including front handle X 44" Tall
Top View 48 1/2" Wide X 37 1/4" Deep including handle